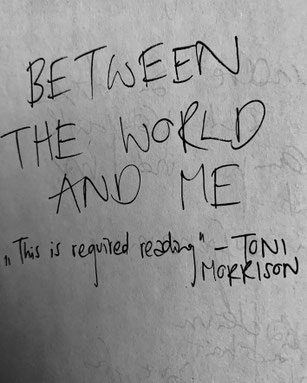 Auf Ta-Nehisi Coates (*1975) bin ich zuerst via den Atlantic gestossen. Er schrieb von 2008 - 2018 für das Magazin, eine Liste seiner Texte findet sich hier. 
Letzte Woche habe ich sein Buch "Between The World And Me" gelesen. Es ist ein 150-seitiger Brief an seinen Sohn, im Juli 2015 erschienen. Er erzählt ihm darin von seinen persönlichen Erfahrungen, den subtilen und offensichtlichen Aggressionen, denen er, seine Familie, seine Nächsten sich ausgesetzt sehen. Und wie weh es ihm tut zu erkennen, dass es seinem Sohn genauso gehen wird. Der Guardian hat das Buch auf seiner Liste der 100 besten Bücher des 21. Jahrhunderts auf den siebten Platz gesetzt. 
Ein paar Zitate aus dem Buch:
"They were the children of the Jackie Robinson elite, whose parents rose up out of the ghettos, and the sharecropping fields, went out into the suburbs, only to find that they carried the mark with them and could not escape. Even when they succeeded, as so many of them did, they were singled out, made examples of, transfigured into parables of diversity. They were symbols and markers, never children or young adults."
"Racism – the need to ascribe bone-deep features to people and then humiliate, reduce, and destroy them – inevitably follows from this inalterable condition. In this way, racism is rendered as the innocent daughter of Mother Nature, and one is left to deplore the Middle Passage or the Trail of Tears the way one deplores an earthquake, a tornado, or any other phenomenon that can be cast as beyond the handiwork of men. But race is the child of racism, not the father."
"And you are here now, and you must live"
Das Buch zu lesen, hat mir noch deutlicher als vorher klar gemacht, wie wichtig es ist, zuzuhören. Sich einzusetzen für die Sache, mit Deutlichkeit, aber still. Für uns gibt es keine Worte. Es gilt die Devise lose-wähle-spände. 
Vor ein paar Tagen hat Coates in einem Interview von vager Hoffnung gesprochen. "I can't believe I'm gonna say this, but I see hope. I see progress right now, at this moment", sagte er zu den aktuellen Protesten. Auch sein Vater, der die Proteste von 1968 als 22jähriger miterlebte, habe ihm bestätigt, dass es sich diesmal anders anfühle.
Zum Thema wählen sagte er im selben Interview:
"We have this idea of elections as this kind of sacred ritual that one is undertaking, that you should be inspired and in love with the candidate. But I often think people need to think about it more like taking out the trash. It's a thing that you should do. Brushing your teeth is hygiene."
Es braucht keine unrealistische Heilsfigur, sondern jemanden, der sich für Veränderungen einsetzt. Jemanden, den man auch kritisieren dürfe, so drückt er es aus. Und schliesslich, nicht zu vergessen, sei die Wahl des Präsidenten, der Präsidentin nicht die einzige mögliche politische Handlung.
Ta-Nehisi Coates schreibt auch Comics, und entwickelt gerade eine Serie über Martin Luther King.